MSD Animal Health receives 'breakthrough of the year' award for EXZOLT® at BFREPA conference
MILTON KEYNES, UK, October 12, 2018 – MSD Animal Health is proud to have received recognition for EXZOLT® (fluralaner) as the breakthrough of the year at the British Free-Range Egg Producers Association (BFREPA) conference in the Ricoh Arena, Coventry. The conference was held on October 11, 2018 and is the largest of its kind in the UK, with around 600 egg producers and other key industry stakeholders in attendance.
''It's been a pleasure working with egg producers throughout the UK that bring EXZOLT to the market, improving the welfare for millions of hens. EXZOLT has been a true innovation in the battle against red mites, providing a new tool for effective flock management, '' said Wesley Thorne, Poultry Key Account Manager at MSD Animal Health. "It is a testament to our mission, the science of healthier animals," he added.
EXZOLT is deemed such an innovative mite treatment by BFREPA and the poultry sector thanks to its ease of application and effectiveness. Simply adding the solution to the hens' drinking water is proven to be over 99 percent effective at killing red mites – without the need for conventional chemical sprays which can be dangerous for the farm workers and distressing for the birds. Results have shown that EXZOLT improves poultry health and welfare – a priority for MSD Animal Health – plus improves both quantity and quality of egg production.
James Baxter, BFREPA Chairman said on EXZOLT: "Although this product was launched in August 2017, the judges waited a year to ensure EXZOLT delivered what it promised before considering it for a BFREPA Award. After receiving first hand reports of performance on the farm, they were delighted to award MSD Animal Health this year with the Breakthrough of the Year Award 2018. Free range egg businesses need innovations and solutions to problems they encounter at farm level so BFREPA is pleased to recognise companies who meet the needs of its members."
MSD Animal Health also received the award for the best stand at the conference.
Breakthrough of the year award
James Baxter, BFREPA Chairman; Wesley Thorne, Key Account Manager MSD Animal Health; Katie Pitman, Technical Manager MSD Animal Health; Jerry Glover, Head of Monogastric Sales UK/Ireland, Elanco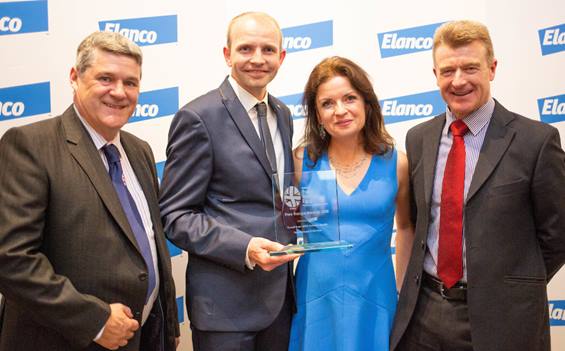 Best stand award
Wesley Thorne, Key Account Manager MSD Animal Health; Celia Alberdi, Product Manager, MSD Animal Health; Jeff Vergerson, BFREPA Co-opted member.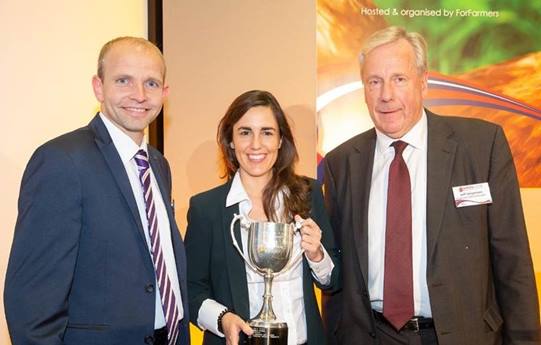 Use medicines responsibly. For more information, please refer to the Responsible Use sections of the NOAH website. Legal category: POM-V EXZOLT® is only available from a veterinary surgeon, from whom advice should be sought. EXZOLT contains fluralaner. ® Registered trademark. EXZOLT is the property of Intervet International B.V. or affiliated companies or licensors and is protected by copyrights, trademark and other intellectual property laws. Copyright © 2018 Intervet International B.V. All rights reserved. Further information including side effects, precautions, warnings and contraindications is available on the product SPC or datasheet or from Intervet UK Ltd trading as MSD Animal Health. Registered office Walton Manor, Walton, vet-support.uk@msd.com • www.msd-animal-health.co.uk
---
About MSD Animal Health
For more than a century, MSD, a leading global biopharmaceutical company, has been inventing for life, bringing forward medicines and vaccines for many of the world's most challenging diseases. MSD Animal Health, a division of Merck & Co., Inc., Kenilworth, N.J., USA, is the global animal health business unit of MSD. Through its commitment to the Science of Healthier Animals®, MSD Animal Health offers veterinarians, farmers, pet owners and governments one of the widest range of veterinary pharmaceuticals, vaccines and health management solutions and services. MSD Animal Health is dedicated to preserving and improving the health, well-being and performance of animals. It invests extensively in dynamic and comprehensive R&D resources and a modern, global supply chain. MSD Animal Health is present in more than 50 countries, while its products are available in some 150 markets. For more information, visit www.msd-animal-health.com or connect with us on LinkedIn and Twitter.