Join the March towards Stamping out Lameness
MILTON KEYNES, UK, June 11, 2018 – UK sheep producers are being encouraged to join the march towards stamping out lameness in the national flock when the industry highlights how to take the first step towards better control during July.
Independent experts point out that the later summer months are a great time to start implementing the proven Five-Point Plan for sheep lameness reduction, so there will be plenty of advice available throughout this period to help farmers kick-start their own disease management programme.
"The sheep industry has made real progress with lameness over the last five years but must maintain momentum if it is to meet the Farm Animal Welfare Council (FAWC) target of two percent disease incidence in the national flock by 2021," says Dr Ruth Clements, head of veterinary programmes at farm-based research and development organisation FAI Farms, which developed the Five-Point Plan.
"Implemented correctly and given long term commitment, the Five-Point Plan gives sheep farmers a clear framework for managing lameness effectively because it builds natural disease resilience within the flock, reduces the disease challenge and spread on the farm, and improves flock immunity through vaccination. More widespread adoption on farm will also help the sheep sector cut its use of antibiotics for foot infections and meet new industry targets; a sheep sector task force facilitated by RUMA has already signed up to a 10 percent reduction in antibiotic use by 2020," Dr Clements adds.
Dr Clements says sheep farmers are generally keen to get on top of any flock lameness issues, but sometimes feel helpless and often find it difficult to know how and where to start.
"Now's the time to start thinking about it seriously," she says. "Weaning is an ideal time to cull out any ewes with chronic feet, re-set the breeding flock for the new sheep year and build from there."
Farmers looking for practical advice on how to take the first step towards reducing sheep lameness in their own flock will be able to visit the MSD Animal Health stands at the NSA Sheep Event (July 18) in Malvern and the Royal Welsh Show (July 22-26) in Builth Wells. During July and beyond, sheep producers should ask their vet or SQP at their local animal health product supplier for guidance and support with implementing the Five-Point Plan.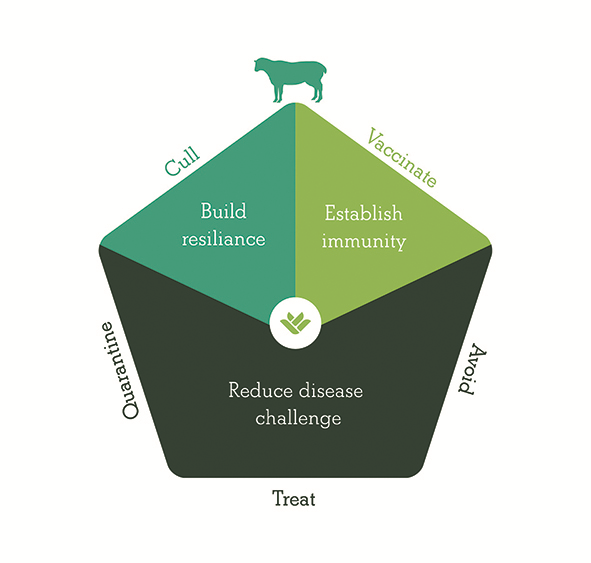 Implemented correctly, the Five-Point Plan helps sheep producers make their flock less likely to succumb to lameness problems and reduces the time farmers spend wrestling with this frustrating and costly disease. Find out more at the NSA Sheep Event and Royal Welsh Show during July.
---
About MSD Animal Health
For more than a century, MSD, a leading global biopharmaceutical company, has been inventing for life, bringing forward medicines and vaccines for many of the world's most challenging diseases. MSD Animal Health, a division of Merck & Co., Inc., Kenilworth, N.J., USA, is the global animal health business unit of MSD. Through its commitment to the Science of Healthier Animals®, MSD Animal Health offers veterinarians, farmers, pet owners and governments one of the widest range of veterinary pharmaceuticals, vaccines and health management solutions and services. MSD Animal Health is dedicated to preserving and improving the health, well-being and performance of animals. It invests extensively in dynamic and comprehensive R&D resources and a modern, global supply chain. MSD Animal Health is present in more than 50 countries, while its products are available in some 150 markets. For more information, visit www.msd-animal-health.com or connect with us on LinkedIn and Twitter.