Zero Upfront Costs with Subscription-Based Herd Monitoring
MILTON KEYNES, U.K., 7th March 2023 – The latest round of farm equipment and technology grants has made herd monitoring systems such as SenseHub® and Dataflow II from MSD Animal Health UK Limited (a division of Merck & Co., Inc., Rahway, N.J., USA (NYSE: MRK)) more affordable in England. The option to use SenseHub and Dataflow II on a subscription basis further increases the affordability of the company's class-leading fertility and health monitoring systems.
The latest round of the Rural Payments Agency's (RPA) Farming Equipment and Technology Fund (FETF) offers grant funding for a range of equipment and is divided into two main categories: Productivity and Slurry items (Annex 3), and Animal Health and Welfare items (Annex 4).
Within Annex 3, heat detection systems (FETF90*) and their associated ear tags and neck collars (FETF91*) are eligible for grant funding to the amounts of £740 and £29 (per tag or collar) respectively. Similar grants are also available in Wales as part of the Welsh Government's existing small grants efficiency scheme.
Alternatively, the costs of investing in a herd monitoring system can be spread with MSD Animal Health's simple and affordable 'GO' subscription model. With zero upfront costs, GO gives users access to all the necessary equipment, installation, tags and applications for a single monthly fee and allows full flexibility to change or add to their system as their needs evolve. Subscriptions are available as multi-year contracts, with silent renewals giving customers the peace of mind that they will have automatic access to new features, continuous service and no unexpected costs.
The subscription service is available for all SenseHub and Dataflow II application plans (Starter, Advanced and Premium) and can be used to monitor multiple populations or groups of animals including cows, heifers and youngstock. GO also enables users to use a mixture of MSD Animal Health's intelligent ear tags and/or neck collars.
Crucially, the subscription-based service gives users access to priority-level service support, with customers also benefitting from a full programme of onsite and online training modules including regular webinars and on-farm support to ensure they are able to get the most from their system. All equipment is also covered by a continuous warranty which lasts for the full duration of the subscription.
Commenting on the new package, Paul Mitcham, Nationals Sales Manager (Monitoring) MSD Animal Health, said: "The GO package highlights MSD Animal Health's commitment to provide a fully supported, service-based solution to herd improvement by offering dairy and beef farmers an affordable, simple and flexible route into the use of herd monitoring technologies.
"With no upfront costs, GO gives farmers access to the full suite of MSD Animal Health monitoring hardware – including our intelligent ear tags and/or neck collars plus the necessary antennas, controllers and any applicable training and support – for one affordable monthly payment which is calculated according to the number of tags or collars being used and the application plan on which they are registered."
The new subscription package offers complete flexibility, with customers able to increase the number of tags/collars and to upgrade their application plan at any time. Coverage can also be expanded as and when the herd grows to ensure all groups of cows, heifers and youngstock are monitored.
"GO future-proofs the farm's investment into herd monitoring and offers farmers complete peace of mind by giving them access to the very best technology with none of the financial risks or capital depreciation losses," Paul Mitcham adds. "With a GO subscription there are no unexpected costs. Instead, all the equipment, installation and applications are included within the monthly fee, with MSD Animal Health providing a comprehensive warranty programme to ensure the system remains completely up-to-date and fully functional at all times.
"All tags, software and ancillary hardware are also automatically updated as and when new upgrades are launched, with farmers therefore able to enjoy all the benefits of herd monitoring – improved herd fertility, enhanced productivity and fewer health issues – without any of the upfront costs, servicing expenses or renewal charges associated with more traditional purchasing models."
For farmers who prefer to own their herd monitoring equipment, SenseHub and Dataflow II will remain available to purchase on a traditional upfront basis via MSD Animal Health's 'UP' purchase scheme.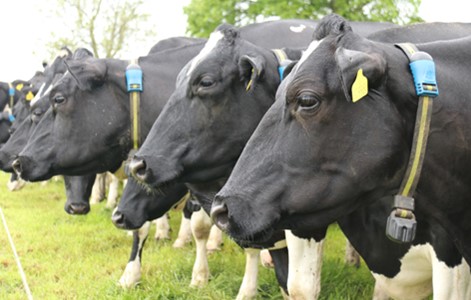 * FETF90 Heat detection system base unit: automated system for the heat detection in cows based on motion detection. Using either electronic ear tags, neck collars or ankle transponders to identify the animal. To be eligible, each base unit must comprise receiver, aerial and connection to farm computer. Extenders are not eligible. Maximum 2 units per application. See FETF91 – Heat Detection System – Ear Tag, Collar or Ankle Band.
FETF91 Heat detection system ear tag collar or ankle band: Automated system for the heat detection in cows based on motion detection. Ear tag, neck collars or ankle bands which measure motion associated with oestrous behaviour are eligible. Cost is per neck collar/ankle band or ear tag. Note for ear tags to be eligible they must have a life expectancy of at least five years and be reusable (transferable to another animal). Tags used for Cattle Tracing System (CTS) purposes are not eligible for funding. Bolus type transponders are not eligible under this scheme.
Source:
https://www.gov.uk/government/publications/farming-equipment-and-technology-fund-fetf-2023/annex-3-fetf-2023-productivity-and-slurry-eligible-items#livestock
About MSD Animal Health
At MSD, known as Merck & Co., Inc., Rahway, N.J., USA in the United States and Canada, we are unified around our purpose: We use the power of leading-edge science to save and improve lives around the world. For more than a century, we've been at the forefront of research, bringing forward medicines, vaccines and innovative health solutions for the world's most challenging diseases. MSD Animal Health, a division of Merck & Co., Inc., Rahway, N.J., USA, is the global animal health business unit of MSD. Through its commitment to TheScience of Healthier Animals®, MSD Animal Health offers veterinarians, farmers, pet owners and governments one of the widest ranges of veterinary pharmaceuticals, vaccines and health management solutions and services as well as an extensive suite of connected technology that includes identification, traceability and monitoring products. MSD Animal Health is dedicated to preserving and improving the health, well-being and performance of animals and the people who care for them. It invests extensively in dynamic and comprehensive R&D resources and a modern, global supply chain. MSD Animal Health is present in more than 50 countries, while its products are available in some 150 markets. Read more at https://www.msd-animal-health.co.uk/ and find us on Linkedin and Twitter.
About SenseHub
SenseHub® uses intelligent neck collars and/or ear tags to monitor millions of animals worldwide. Critical data is collected around the clock from every tagged individual animal and interpreted to deliver timely insights for managing reproduction, health, and nutrition. SenseHub offers unmatched heat detection and real-time reproduction and health monitoring, for optimal productivity and management. By using SenseHub, dairy and beef producers can make accurate, data-driven and reliable herd management decisions to increase production efficiency, improve livestock well-being, and improve profit potential.
Media Contact:
Ploy Radford
ploy.radford@msd.com
Copyright © 2023 Merck & Co., Inc., Rahway, NJ, USA and its affiliates. All rights reserved.