Forging the link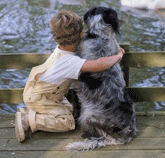 Child abuse, animal abuse and domestic violence are still considered amongst some to be taboo subjects, but this is an area where MSD Animal Health has been instrumental in helping to promote the awareness of the links in order to help safeguard the welfare of children, animals and vulnerable adults. The 'Link' involved is the tragic association between non-accidental injury of animals too frequently observed by veterinary surgeons; and abuse of children or others in the home. The initiative aims to break this cycle by forging links between the different agencies involved in abuse prevention. The continued development of the company's Forging the Link initiative is the result of years of hard work and loyalty to supporting an area of human and animal intervention, in a bid to save lives in the process.
During this time significant milestones have been achieved including the introduction of a ground-breaking national working party within the animal and human health sectors. This pioneering group was set up to bring the subjects of child abuse, animal abuse and domestic violence to the fore. The Links Group consists of the RSPCA, NSPCC, Women's Aid and other leading authorities, supported by MSD Animal Health, to raise awareness of the connection of violence and helping to make a difference.
Educating our own profession about the link is paramount and MSD Animal Health provides key support to enable the education of veterinary student to raise awareness of the problem. The Links Group runs an annual a series of enlightening seminars at UK veterinary schools to help educate students in the identification of non-accidental injury cases in practice. The programme is designed to highlight the link between abuse of animals and humans and give students guidance about what to do if faced with a case in practice.
And, with MSD Animal Health's help over the years, there have been a couple of significant breakthroughs in terms of support and advice. First and foremost, the RCVS Guide to Professional Conduct now contains a section on 'animal abuse, child abuse and domestic violence'. Secondly, a booklet, published by the NSPCC has been produced in conjunction with all members of The Links Group called 'Understanding the links, child abuse, animal abuse and family violence – information for professionals'.