Rabies Elimination Programmes:
Helping Safeguard Communities Against Rabies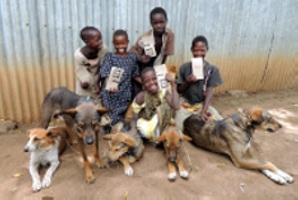 MSD Animal Health proudly supports rabies elimination programmes through the donation of its Nobivac® Rabies vaccine. By vaccinating pets in practice, vets can help save the lives of both dogs and humans in communities where rabies continues to pose a risk to life. Each year around 60,000 people across the globe die from rabies, many of them children. Yet rabies is 100 percent preventable. MSD Animal Health has donated over 3 million rabies vaccines so far.
As quoted by the Global Marketing Director at MSD Animal Health, responsible for the global awareness of the program: "Every vet understands the close bond owners have with their dogs. When there's a risk of rabies that relationship can become lethal for the human and dog population. That's why we've supported the Afya rabies elimination programme for the last 20 years. We want to see the end of this deadly disease but need the help of vets everywhere. The main reservoir of the disease are domestic dogs and by vaccinating them we can protect both humans and animals. We have therefore expanded our support for the Afya campaign by providing vaccines to rabies elimination projects in the Serengeti, Tanzania, India, Malawi and Sri Lanka. When vets vaccinate pets in clinic with our vaccines this enables MSD Animal Health to donate sufficient vaccine doses for use in these Afya projects around the world."
The Global Technical Director responsible for the MSD Animal Health small animal vaccines has said: "Controlling rabies is vital to the health of the whole community. By vaccinating domestic dogs in developing nations, such as India, Sri Lanka and in Africa we help protect the human, domestic dog and wildlife populations. We believe that every community should be free of rabies. It's a goal worth aspiring to."